Hi everyone!
This is just to let you know that the server is currently under maintenance and improvements are being made. After this maintenance period, the server will effectively be out of the beta period.
UPDATE (3rd December): the 'back online' date has been pushed back to Thursday, 5th December at the same time (6pm AEST)
The server will be back online on Tuesday, 3rd December 2019 at 6pm AEST (8am UTC).
---
What's changing? Will I lose my progress?
No. None of your progress will be lost. You will be keeping your items, builds, money and anything else. In the event that something is lost, let me know what was lost when the server comes back online, and you will be reimbursed.
There are several changes, fixes and new stuff coming! Notable changes include a new server location, more memory, as well as new features. A full change log will be released when the server comes back online.
Thanks for your patience! Join our discord server for up to date updates.
Thank you so much for taking the time to submit an application for staff at HazeMC.
Unfortunately, your application has been denied at this time. The application has been denied due to lacking detail, not meeting the requirements, or other reasons.
Feel free to submit a new application in the future.
Volunteers are always needed
.


Thank you everyone for voting during the month of October. I hope you all had a great halloween! Sorry for posting these a bit late, but here are the top voters for October.
---
The top 3 voters will receive $10 to spend on our store (https://hazemc.net/store).
Please be aware that coupons/gift cards cannot currently be given out. Please contact me with the items/packages you wish to buy through Discord or the forums.
---
The top voters for October are:
1: magic256
2: Hotnspicymeat
3: Epic_Despacito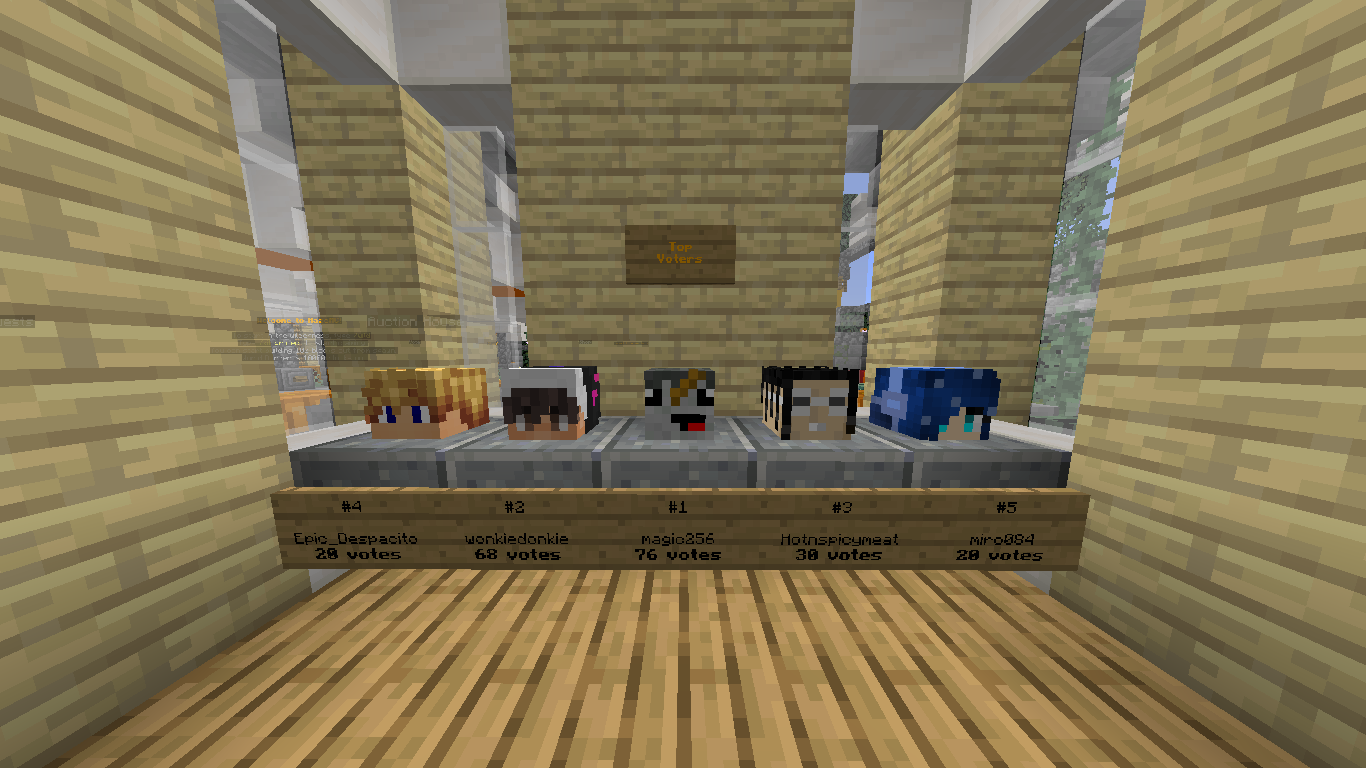 Please contact me by December 1st to receive your reward. All store credit must be redeemed at once - any credit left over will be forefitted. Good luck to everyone for November!
Server Update - 22nd October 2019
---
Fixed an issue where artificial mob spawning (especially from mob spawners) was not working in the overworld.
Fixed an issue where there was an abnormal amount of mobs spawning (especially in the nether).
Fixed an issue where players would be blocked from saying a string of numbers, as the filter thought it was an IP address.
Fixed an issue where placing a silk-touched spawner would automatically turn it into a pig spawner.
---
Have a suggestion or want to report a bug? Post it in the correct section and a staff member will review it!
If you have been banned on the server, please read this thread carefully.
Please make sure you follow all instructions in this thread in order to give you the best chance of a successful appeal. If you lie in your appeal, your appeal will be instantly denied. Staff members have the final say.
Please do not appeal bans or mutes under 6 hours long. 
Only staff members and the perpetrator are allowed to reply to ban appeals. If you were not directly involved, or a staff member did not permit you from posting, you will be punished on our forums.
---
Ban Appeal Format
Please fill out this format or else your appeal will automatically be denied.
What is your in-game name?
Banning staff member:
Did you read our rules?
Full exact ban message (message shown on login attempt):
Why do you think you were banned?
Was this an incorrect ban?
Why should we unban you?
Thank you for appealing and please be patient! A staff member will handle your appeal when they can.